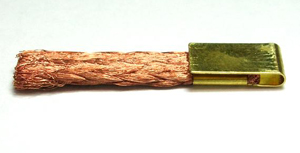 M717 Short braid with precision clip 12 pr., $.96 pr. M718 Short braid with precision clip 100pr., $.90 pr.
---
M166-5 RTR .005 Aerotek wing body with 5 x 5 air kit. Suitable for G27, C12, Hawk 12, OMB, Group F, cars with for 4.000 to 4.250 guide lead. $36.64 ea.
---
M214M-5 Aerotek (G27L, C12) .005 Dimpled design body with additional ribbing for stiffness. $6.98 ea.
---
M214L-5 NewPeugeot (G7, TMO, G27L) Based on the famed Peugeot design but with additional ribbing to prevent collapse with .005 material. $6.98 ea.
---

M615 Brass guide nut. Adds 1 gram nose weight.
---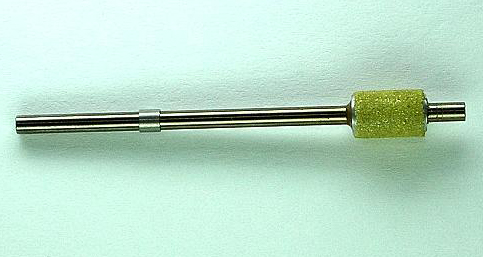 M716 Diamond brush tool. Available in .190, .195, .200, .205 diameter to radius your brushes to match comm size for quicker break in.
---
M611 .209 dia. x .289 long plated diamond wheel to fit M574/M575 grinder.
---
M612 .088 dia. x .211 long plated diamond wheel to fit M574/M575 grinder.
---
M574 Precision metal housed grinder for use with M325 power supply. The small size and precision toolless 3/32" collet make this tool a joy to use and easy to fit in your slot box. Use with M576 grinding wheels or other 3/32" tools. $160.00 ea.
---
M575 Precision metal housed grinder with variable speed control (grinder shown above) and controller (shown here) which plugs into a standard 120V outlet. The control shown above has on/off, variable speed, clockwise and counter clockwise direction, indicator light, and current limiting. $310.00
---
M576 Diamond grinding wheel for M574/M575 grinder. This wheel is solid metal bonded diamond not plated. It will cut any material including Cobalt and Ceramic magnets and last for years. Will not break like aluminum oxide discs. $60 ea.
---
M587 Rubber bonded abrasive polishing wheel for M574/M575 grinder. Excellent for cleaning the inside of cans before magnet bonding. $13.85 ea.
---
M545 short length big head pro body pins. No trimming required! Won't stick past the end of the body mount tube and hang up lead wire or stick marshalls. Ligher weight then long pins. Custom made just for us, the best on the market
---