M727 H12 and Scale can. Stronger harder steel then M528. Lower gauss then M528 is ideal for H12 and Scale motors. Fits .450 long magnets. Precision formed. $12.59 ea.
---
M721 Hawk 19 motor with Sintered Neo mags and 48° arm. Sintered Neo magnets increase gauss by 10% for more power. $70.95 ea.
---
M645-48 Group 19 (G20 on a .350 long blank) 48° replacement arm for M721 drag motor. Better then drill blank shaft, 800° epoxy. $46.40 ea.
---
M287-AB Bare aluminum Hawk endbell. Uses Koford hardware. $26.98 ea. Also available as a kit and assembled.
---
M287-Q Bare aluminum endbell. for C12, G27L and G7 qualifying and drag cars. Uses Koford hardware. $24.98 ea. Also available assembled.
---
M287-TA Long tower bare G7 aluminum endbell. Drill you own hardware holes. Can holes untapped. Uses Koford hardware. $24.98 ea. Also available assembled.
---
M705B Bare aluminum Gp12 endbell $26.98 ea.
---
M527H Aluminum endbell G12 motor for scale racing with double ball bearings and shunts. High time arm. Motor is blueprinted and assembled by Koford craftsmen with premium brushes and fully broken in. $97.62 ea.
---
M652 CNC .620 OD Euro can and M287-E aluminum endbell.
---
M645 Arm for JK Hawk. Available in Replacement wind and in 12 wind. 800° epoxy, sawcut comm, ultrahard better then drillblank shaft.
---
Hawk motor with Koford arm, Superbigfoot 2 brushes, silver conductive springs. Available in M646 Replacement (Retro) wind, M647 G12 wind, and M653 G19 wind. A G19 is the same as a G20 but on the .350 stack that will fit the Hawk motor.
---
M559 Lightweight, windowed .480 tall, precision CNC machined G15 can, fits M415 and other standard aluminum endbells. Works great with M532 radial magnets. $46.25 ea.

---
The M600 G15 radially oriented .450 long magnet. Radial orientation produces the performance of a 6 mag without having to deal with seperate pieces, fits Koford and other brands of G15 cans. A 470 long version is also available under part number M701.
---
The M415 G15 endbell fits Koford and other brands of G15 cans. Lightweight, strong, and accurate. Fits Koford hardware.
---
M528 Ultra C can for G12 racing. Ultralight but strong, and designed for maximum gauss.
---
M524 Drag C can. Optimized design for more gauss then the competition.
---
M468-SW Super Wasp scale arm.
---
M529 450 long G12 magnets from stronger material magnets. Lighter weight with no loss of performance.
---
---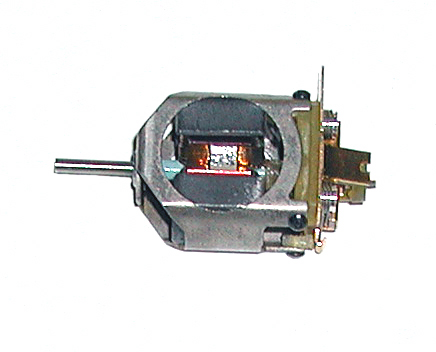 The M504A Super Feather G12 motor features a new lighter weight can then the regular Feather for the ultimate in handling. Unlike other light weight cans however the Super Feather can is strong, crash resistant, runs cool, and is accurate and an excellent fit to the endbell. The can is plated for maximum solder and magnet glue adhesion and to prevent rusting. The endbell features Gold plated aluminum horizontal hoods for the ultimate contact resistance and light weight. Also available in Competitor and SPEC 15 versions
---
M505 the new lighter super Feather Gp12 can features stronger design and material then other lightweight C cans. Special material for maximum strength and magnetic properties and plated for maximum solderability, magnet retention, and rust resistance.
---
M419 Gp12 endbell is ultra lightweight but strong with a precision fit and uses lightweight Koford gold plated aluminum hardware. It fits either of the Koford C cans, but also is popular for replacing the original endbell on other brands of Gp12 motors.
---