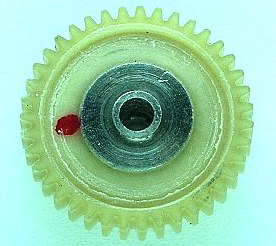 Our Nat's winning and world record setting M541 "Red Dot" gears are made of a new material which is 28% stronger then the best competitive gears and with twice the wear life. Ultra precison for exceptional smoothness. Available in 64 pitch 38 and 39 tooth straight, and 72 pitch 42, 43 and 44 straight and 44T 16°.
---
M542 8 T Black Diamond coated pinion with boss for greater solder surface area for use with G7. Use against plastic spurs only.
---
M671-28 Narrowed and lightened precision low wobble 28 tooth x 3/32 crown gears. Precision bored axles hole and lightweight magnesium hub. $6.87 ea. (6 per cd.) $3.49 pr.
---
M560 43 and 44 tooth straight, and M561 44 tooth 5° angled 72 pitch gears. Better material and stronger design then the competition, better motor angle, super accuracy, magnesium gear hub with hollow set screw for the best dynamic balance. $5.95 ea.
---

The new 72 pitch hardened pinions. M556-11 (11 tooth 5 degree angle), M553 (11 tooth, 3 degree angle), M556-10 (10 tooth, 5 degree angle). Stainless with boss to prevent solder from flowing into teeth. Hardness optimized for plastic spurs, not recomended for metal spurs.
---
M544 8 tooth 9° angled 64 pitch Black Diamond coated pinion for use with C can motors and G15. Use against plastic spurs only.
---